Bug

Major
This is continuation from ticket CORE-17527.
In Live CD the "Reinstall Driver" button is never displayed for unknown devices in the Device Manager. This may be related to the problem with displaying "Other Devices" class - see CORE-17576.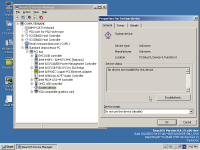 It should be possible to fix this by triggering a second run for the User-mode Plug-n-Play manager (umpnpmgr) right before starting ReactOS Explorer in Live CD, but our NT kernel PnP implementation may be incomplete to handle this properly.
Debug log: 0.4.15-dev-4569-g032c50f.txt

clones

CORE-17527 Reinstall Driver button is missing in General tab for unknown devices with Device Manager

Resolved
relates to

CORE-17576 Live CD: Other Devices category is missing in Device Manager

Open